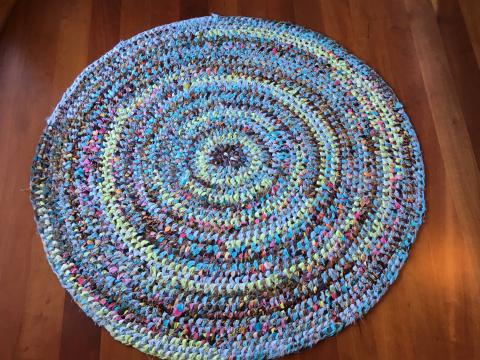 The Toothbrush Rug is made using strips of fabric and a toothbrush, which has had the bristles removed and the point made smooth. It is a relaxing and portable project to work on, much like knitting or crocheting. During the three-hour class, you will get a good start on your rug, but will not finish it.
This Friday Class is now Full. Megan has agreed to teach a second class on Sunday morning.
Both classes are now full.
Course Difficulty
Beginner
List of materials
Toothbrush – I will provide these.

Scissors

Fabric types:
The best fabric for this is woven cotton, in a light to medium weight. Batiks are good if you'd like a smooth, non-frayed look. My advice on colour is to choose a selection of fabrics that you like. You can then decide to work them in a pattern or randomly. When making your strips, cut the fabric with scissors or a rotary cutter. Tearing the fabric makes it much harder to work with.

Fabric requirements:
Approximately 1 metre of assorted fabrics, cut into 1" strips x the width of the fabric, usually 44". You may use strips shorter than 44" but will be constantly stopping to make joins.

Please feel free to contact me if you have any questions.