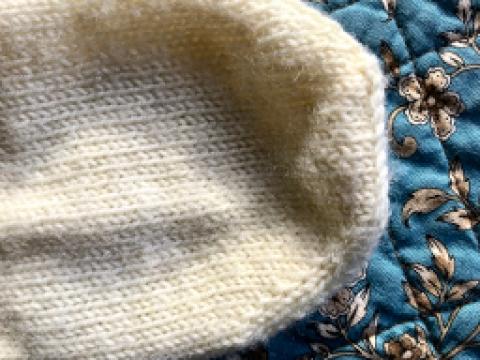 Knitting Socks from the Toe-Up; It is all about the cast-on for the toe. with Jean Cockburn Knitting Toe-Up Socks 3 hour workshop Friday September 17, morning 9 - 12. The simplest way to knit a pair of socks is from the toe up using the "Magic Loop" technique. The only tool used is a single long flexible circular needle.
Course Difficulty
Intermediate
Course Time
Friday morning, 9 am to 12 pm
List of materials
Tools and Materials: To do the classic toe up sock, you must use a metal flexible circular needle with smooth joins that is at least 40 inches (100 centimetres) long. Old aluminum circular needles with stiff metal or plastic wires will only be a source of frustration. Bamboo or wood needles will not allow the yarn to slide easily. My favourite sock needle is made by Addi, size 2.25 mm. Check the information on the band of the yarn to make sure that you are matching yarn weight to your needle size. Uptown Yarns in Courtenay and the Village Yarn Shoppe in Comox carry or will order needles and sock yarns. Online order from Vancouver Island businesses: needlenart.com (formerly in Campbell River) carries both Addi Turbo and Addi Rocket needles, while woolandwaves.com has ChiaoGoo Red Lace Circular needles.

Addendum: Easy option. For those who prefer to knit socks on five double pointed needles, that option will be presented at the workshop. Instead of a figure eight cast-on using the long circular needle, this option is to knit a short tab, pick up stitches on four sides, and knit up the foot. Four needles are not enough as five are needed for this option.