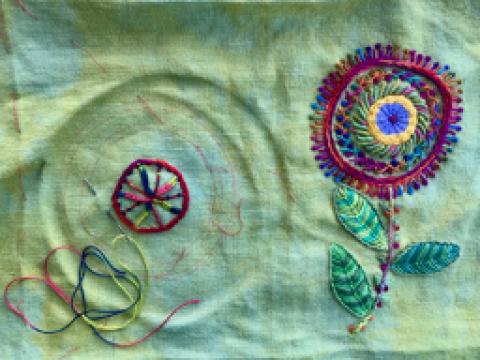 Stitchers will embroidery a fabric needle keeper or sampler using hand-dyed linen and wool felt (or cotton canvas for those who avoid wool). Participants will learn basic embroidery stitches with the opportunity for more advanced techniques in the afternoon session. The workshop can be taken in two parts. The morning session is an introduction to the project and includes the kit. Confident stitchers might feel that they can proceed on their own at this point. The afternoon session allows stitchers to work on the project with guidance, to learn a few more embroidery stitches, and maybe complete the project. In the afternoon session participants learn how to transfer designs, how to interface linen, how to do advanced stitches, and may consult a variety of books that Jean will bring from her personal library. The kit includes hand-dyed linen, lightweight woven interfacing to back the linen, wool felt or cotton canvas for the needle keeper lining, a needle, a small hoop, a Frixion pen for marking designs, and lots of embroidery threads to choose from (and some to take away to complete the project). Two sessions on one day. Participants can sign up for the morning only, or for the full day. The afternoon session cannot stand alone as participants will have missed the introduction. Introduction in the morning session. Development of skills in the afternoon session. THIS CLASS IS NOW WAIT LIST ONLY!
Cost of Course
$45 - $90 (half OR full day
Course Difficulty
Beginner
Course Time
Saturday morning, 9 am to 12 pm
Saturday afternoon, 1 pm to 4 pm
List of materials
Participants should bring their own small sharp embroidery scissors labelled with their name, and a thimble if they use one. A variety of thimbles will be available to try out.