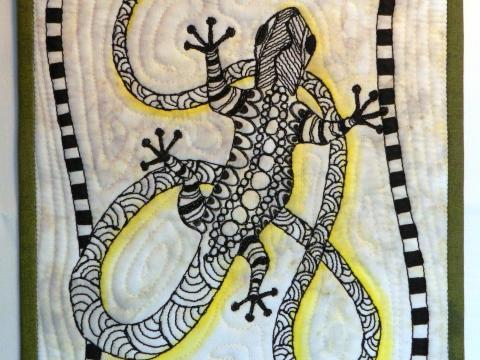 Zentangle-Inspired Quilting (ZIQ) uses the same tangles, or patterns (sometimes adapted for continuous line application) using free-motion quilting. The morning class is prerequisite for ZIQ.
I am a very experienced free-motion quilter, very confident with Zentangle design, and have a lot of teaching experience. What I do not have is enough technical know-how to troubleshoot on many different models of sewing machines. It is not my intention to teach basic free-motion quilting, as we are using complicated designs. I want to teach for success, and it is important the "zen" quality of Zentangle can be appreciated by the afternoon students. For these reasons, I encourage only students who are fairly confident with their free motion quilting to attend the afternoon session. 
Course Time
Sunday afternoon, 1 pm to 4 pm
List of materials
No additional materials required.