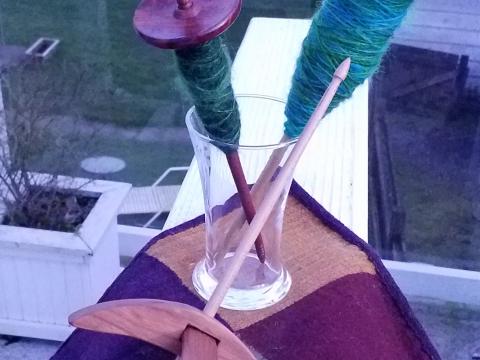 Targeted to spinners who have some experience on the wheel but 'never got the hang of' spinning on a suspended spindle. 
Come play with spindles! This class will allow wheel spinners who already have the basics of drafting and creating a continuous thread the opportunity to add another spinning tool to their repertoire. Hand spindles go back thousands of years and are portable and inexpensive. We will review basic spinning ideas and look at how to translate various drafting styles to the suspended spindle. After spinning some singles, we'll then explore different plying techniques for use on the spindle. You are welcome to try different styles of suspended spindles (top whorl, bottom whorl, Turkish-syle) from the instructor's collection. 
Skills level needed: Students should be able to spin a continuous yarn on a spinning wheel. Students are not expected to have any experience with drop spindles.
Kit Fee
$10 kit fee for materials; Possible purchase of Spindle for $15 (not required)
Course Difficulty
Intermediate
Course Time
Saturday afternoon, 1 pm to 4 pm
List of materials
None Required. If student has a spindle or fibre tools, they are welcome to bring them. Also helpful: 2 straight metal knitting needles and a shoe box.