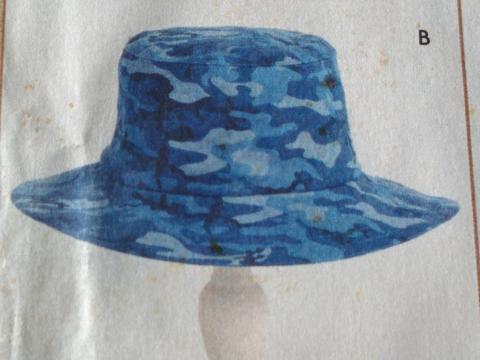 In this course, we will make a sun hat (or rain hat), using a simple pattern which I will provide. Using fabric brought from home (material list provided) I will guide you through all the necessary steps to a completed project in a day-long session. Reading a pattern can be confusing, coming across many terms which we don't regularly encounter. My intention is to demystify the instructions, pictures and content so that you can feel confident in choosing other patterns you might like to make on your own.
Course Difficulty
Beginner
Course Time
Saturday morning, 9 am to 12 pm
Saturday afternoon, 1 pm to 4 pm
List of materials
MATERIAL LIST

Bring a sewing machine you are comfortable using. From a fabric store, you will need to purchase the following unless you have cloth, scissors and thread at home you want to use:

• 0.7 meter of cotton, canvas, denim or synthetic leather
• O.4 metre lining material (cotton or lining)
• 1 metre of Buckram interfacing 51cm wide
• 1 metre of sew-in interfacing 46-51 cm wide
• Matching thread
• Sewing carbon and wheel, if you have it

If you wish to attend the class but haven't purchased the required materials, bring your machine and come anyways. I will have extra fabrics and thread on hand that can be purchased on the day. I strongly suggest choosing fabric that isn't plaid, striped or one-directional to avoid the need to match up the designs, and to limit the amount of fabric needed. Extra fabric will be required for matching.