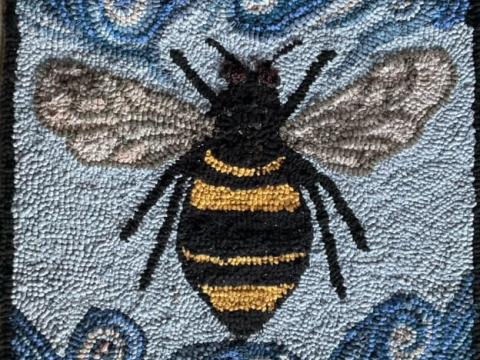 Are you concerned about the amount of used clothing going into the landfill? Learn to create beautiful rugs that will bring years of enjoyment using recycled T-shirts.  In this class, students will learn: a. how to cut t-shirts into useable strips, b. how to choose colors that make your rugs "pop", and c. the basics of rug hooking including pulling loops, hooking a corner, a circle and points; and d. how to finish the rug THIS COURSE IS NOW FULL - WAIT LIST ONLY
Course Time
Sunday morning, 9 am to 12 pm
Sunday afternoon, 1 pm to 4 pm
List of materials
Students will be provided with a kit that includes a 12" x 12" fish and waves
design on backing suitable for hooking with T-shirts, a rug hook, and a
selection of t-shirt fabric.
Supplies required: large and small scissors, a small ruler, and a large hoop
(may be found at a thrift shop or purchased from Sheila for $45.00 plus
tax). A rotary fabric cutter and cutting mat is helpful but not necessary.
Students are welcome to bring used t-shirts they wish to incorporate into
their rug.