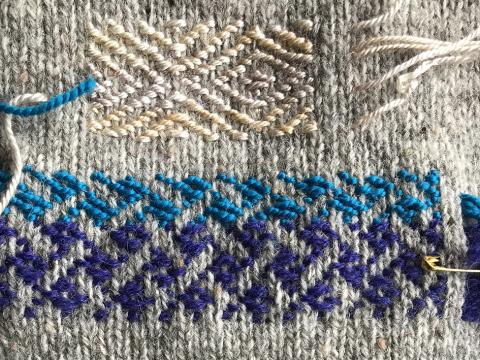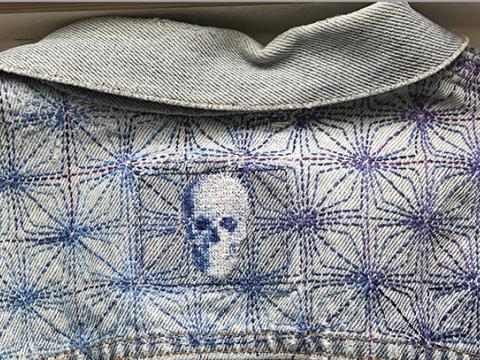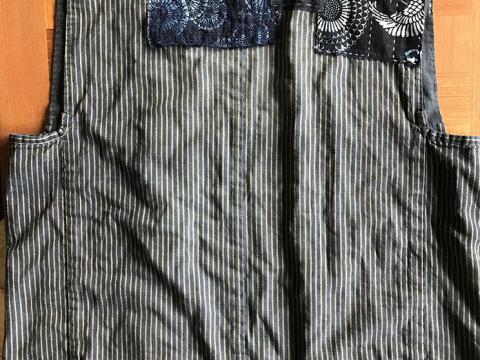 These currently fashionable techniques were born of necessity in times and places where textiles were far more valuable than our modern almost disposable clothing. The time, skill and resources needed to produce cloth by hand meant precious textiles might be repaired and repurposed many times before they were discarded. This workshop will include a discussion of the Japanese tradition of boromono and the fundamentals of woven darning, Swiss darning and other techniques used to mend and embellish knitwear. Students will have the chance to try sashiko stitching, pattern-darning, and some basic knit fabric repairs using a darning needle. I will demonstrate pick-up-and-knit patching and will teach this to knitters who bring their own needles, yarn and sample of knit fabric. Please bear in mind that this is not a masterclass for any one technique, but is intended to give you the confidence to launch your own explorations and adventures in mending. 
Notes for students:
You must have some experience of hand sewing, be able to thread a needle and sew a line of stitches. Those who want to learn pick-up-and-knit patching must already know how to knit.
Included in the workshop fee: Sashiko needles, darning needles, other needles, various threads for sashiko and other stitching, sashiko thimble and printed fabric sashiko sample, and an assortment of other fabrics for composition, stitching & patching.
This class is full . A second class has been added on Saturday October 19th. Room TBA These are now both wait list only. 
Course Difficulty
Beginner
Course Time
Sunday morning, 9 am to 12 pm
Sunday afternoon, 1 pm to 4 pm
List of materials
Scissors, your favourite thimble if you have one, any other hand-sewing equipment you like to have available, ruler, simple graph paper and writing utensils. Reading glasses and an embroidery hoop might be useful if you want to try very fine pattern darning.